I am writing this on January 1st ...  about to start another year of just about the best job I could ever have imagined, sharing great times with very very happy people ... nothing for a couple of months so watch this space and in the meantime go to the "past years" tab above to have a look at what happened last year, or the year before or the one before that all the way back to 2013 ... maybe I should say Toby's Weddings Est. 2013!?
And we started!!!!! Vicki and Matt, a great couple who I have been chatting with for what seems like ages. Matt was beautifully nervous before the wedding but I helped him along and think he was well laid back by the time Vicki made it down the aisle. We laughed about her diet, not to mention one of Matt's best men too! Vicki was stoic though she did mention she was sinking in to the lawn every now and then. I can't imagine a better way to start the year ... congrats to you both!
I have never done a wedding quite like this one. It was just the couple and me. Having said that it was the couple, me, wedding planners (Bodas de Cuento), videographers, photographers, musicians (x3) and caterers (Juvant), all in the glorious setting of the Convent de Blanes. So you get the idea, intimate but with style! The couple were glorious, very happy and moved by the whole thing. The weather was perfect and the evening seemed set to be a memorable one.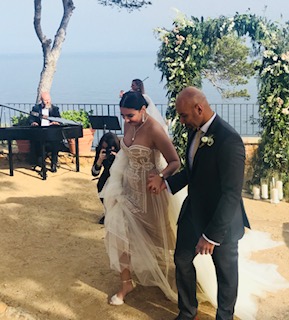 April, the start of spring and anything can happen. It looked like Andy and Sally's wedding was going to be washed out but they had plan B in action ... then we want back to plan A and it was perfect. They laughed and Andy wore a strange rainbow that nobody quite understood. A great crowd, lots of fun and a huge amount of enjoyment of the wine box ceremony! All in all pretty much perfect!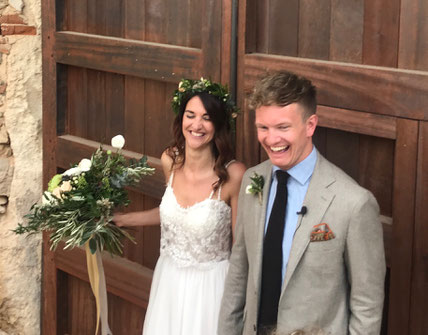 What a great venue this is, overlooking Barcelona, next to Tibidabo. The couple, Ukraine meets USA. We had all sorts of extras from chuppas to glass breaking. Once again, a privilege to be part of it all. I think it was appreciated though left sharpish since the photos started sooner than usual. Perfectly organised by Rebecca at Barcelona Brides. Next up ... Morocco ... watch this space.
I said to Nicole in a message I just sent that I would have to be careful about what I wrote about her wedding. You see I go to Sitges, or to the Costa Brava or anywhere in Catalunya and the weddings are fabulous. There is joy and celebration in the air and that is something that you can never get enough of. There is though something very special about going on an adventure yourself when you go to celebrate a wedding, and that doesn't often happen to me ... this time it did. I met Nicole and Chris at Alessandra and Darren's wedding last year in the Castell de Sant Marçal. It was another wonderful day and they were a great couple. They were at the wedding in Marrakech too, maid of honour no less (as was Nicole for Alessandra)! Well Nicole is a strong willed sort of person who wanted to marry in the beautifully chaotic city of Marrakesh and she wanted me to conduct the ceremony. What can you say to that but ... "yes please". So off I went to the Beldi Country Club via the Riad Palais Sebban for five of the most glorious days I have spent in a long time. Their wedding was wonderful, perfect ... all you can imagine and a bit more, and the five days in Marrakech just the best wedding present I have ever been given. Thank you.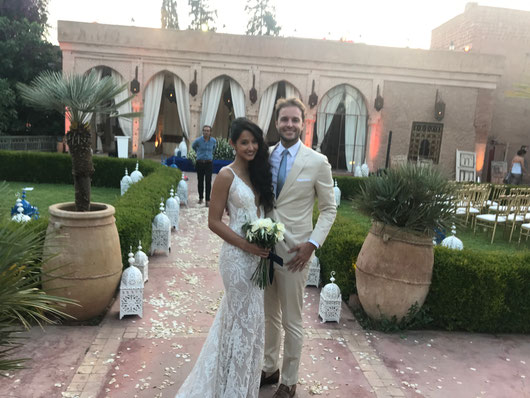 Last minute changes meant that this happened on Saturday rather than Sunday and we missed the rain! You have to be light on your feet in May in Barcelona, anything could happen. Since this was just a family affair, Melanie, Jim, Ava, Ella and Fiona ... we could do that. It was glorious, their girls played a big part and even did a lovely reading for their parents. All together GOOD DAY!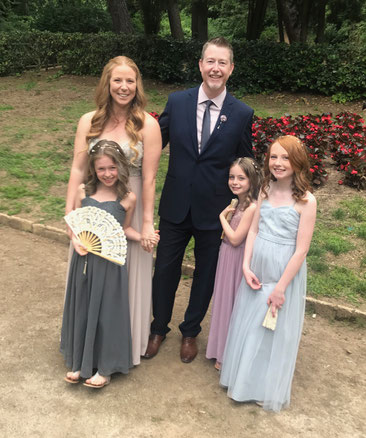 What a joy ... as I tied their hands together in the handfasting ceremony the comments flew ... quietly between the three of us ... but we kept it together, the laughter had all but worn us out throughout the ceremony! This wedding illustrates for me the way that a couple can really alter a wedding and stamp their own personality on it through the mails that we share plus the meetings and online chats. Louise and Ed obviously have a lot of fun together and that shone through in what they had sent me and was therefore a big part of their ceremony. It was Ed's mother, who I met in Barcelona a few months ago, who commented as I left that she felt the balance between celebration and laughter and the more weighty part of the ceremony had been done perfectly. So all in all, job well done and much enjoyed, both by me and them!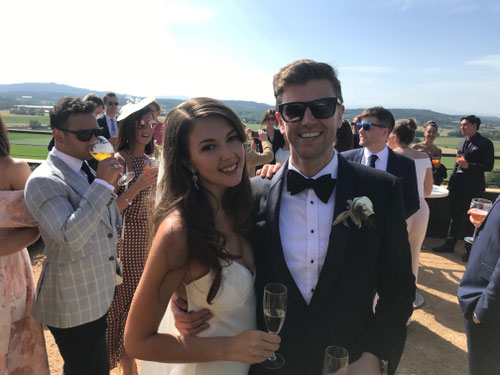 Yet another lovely wedding and at the doors of storms throughout next week but that day held out for them. Unfortunately having to go off to another wedding just after, late start and the couple rushing off to do photos means I didn't get their wedding photo. Ah well, had lots of time to meet Tommy and Lauren was stunning! All good ...
Mas Egara is so beautiful that you have to do everything wrong not to have a great wedding and they didn't. Organised by "A Spanish Do" all was just about as good as it gets. The couple were surrounded by their friends and family, almost all of whom had travelled from the States to be there and there was no way this was not going to be classy and it was. Just one note, the brides shoes were beautiful, if she ever reads this she will know what I mean.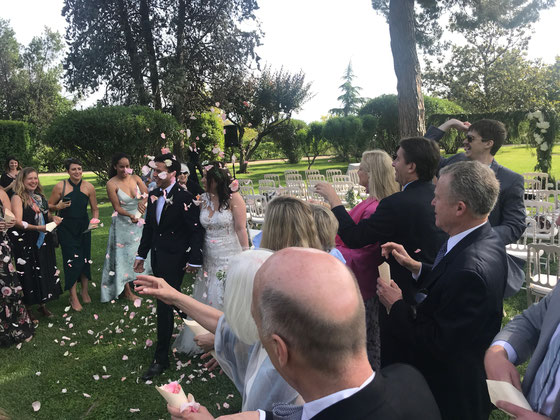 Holly and Dani married at the lighthouse in Tossa. It looked like rain but it never came, slightly overcast but pretty much perfect once again. Aaron, Holly's son and very much Dan's boy (Stoke City and Star Wars create bonds none of us can imagine), read and was great. All in all another great day though I must admit that walk up to the lighthouse is an interesting one, especially when the "heat is on".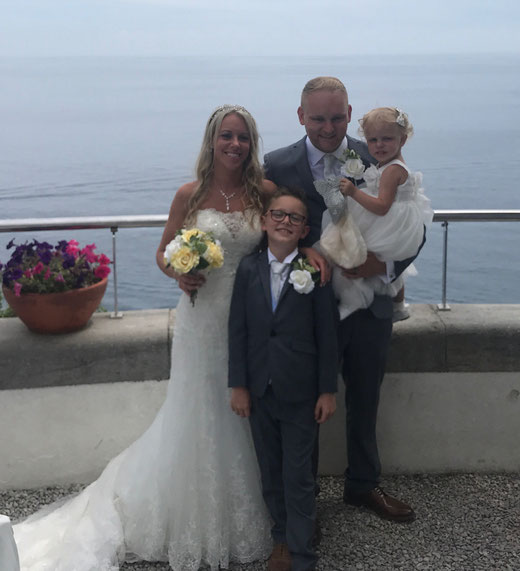 30 minutes before we started it was pouring down but by the time Nadine came down the aisle all was great, so often seems to happen that way! The crowd was well up for forming part but all was good. Nadine had lots of input in to the ceremony so they were very much her words and they seemed thrilled with how everything came out!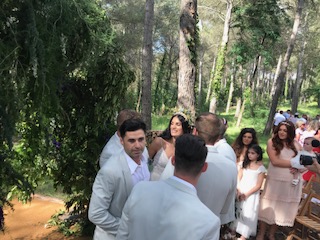 This was the first of two weddings today and both bilingual Catalan/English. Here Eric married Jennifer ... and all was just perfect. After a week of bad weather the sun came out today and the breeze blew. A very international crowd for this couple who met while at school ... went their own separate ways and came back together ... it was a question of "had to be".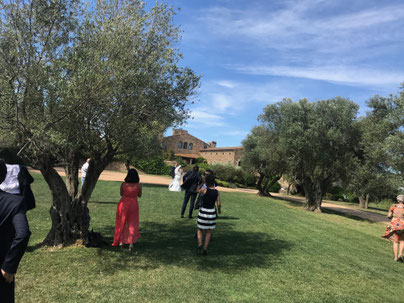 Nº 2 bilingual ceremony today, Gloria half and half and Toby very much a Leeds man. They were both beautiful, he in immaculate morning suit and she ... perfect. There was a moment when, in the middle of the most perfect wood next to their venue: Mas Mauri, Regencòs, I thought that Gloria was going to feint but chairs were fetched and we made it! A great day and, as I said before, weather was perfect. the wood was even more special since the trees where used for cork and made the most perfect setting.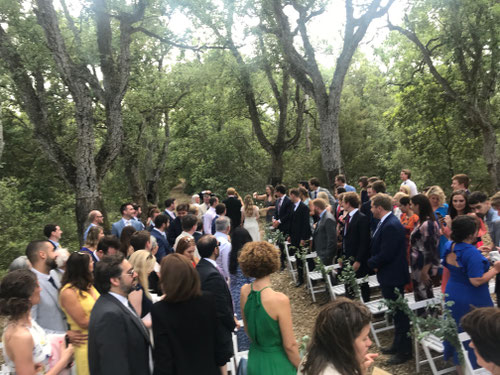 Wow ... what a wedding. Just the three of us ... and photographer! It was a total joy. It rained just before but nothing was going to ruin this. We ended up having almost all of the terrace of the Duquesa de Cardona to ourselves (thanks to the rain) and I learned so much about the couple ... not least that elephants drink milk, but maybe that is another story. Altogether a joy ... what a great job I have!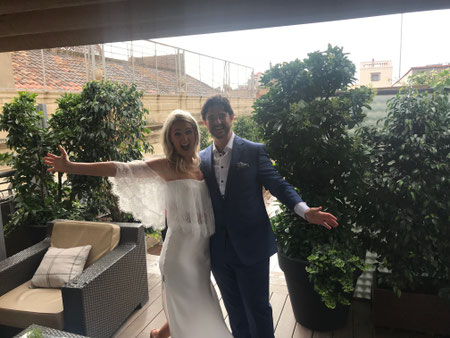 This is absolutely the very very first time I have ever called a bride "selfish" on her wedding day ... their guests were in tears! Fortunately I simply misread my script and changed selfless to selfish but managed to make up for it, just as well since her 11 year old daughter is a kick boxing/tai Kwan Do champion. I think everyone enjoyed it, warts and all!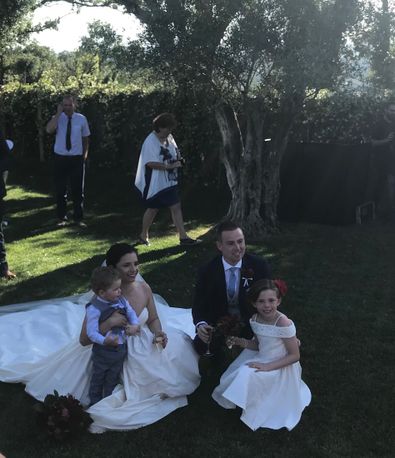 Summer is very much here to stay by the looks of it. This wedding was what can only be described as a total "gas".  It was actually a renewal. Victor and Julie have been together for 5 years and are already planning their 10 year renewal in Italy. They were well accompanied by their children and friends and mother and and and ... they all had some input and it was a joy, if somewhat improvised at times.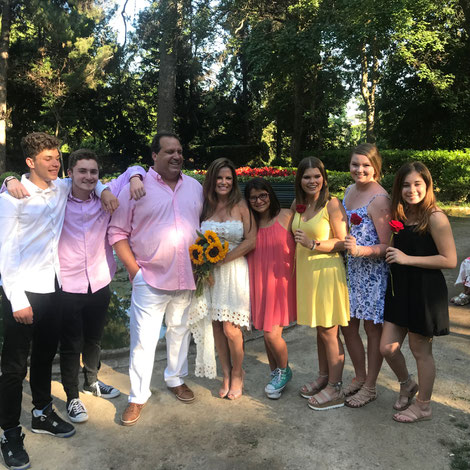 What a great ceremony for a lovely couple and how they have worked. I have never seen the Casa Felix looking better and all was perfectly organised by Val and Mireia and Africa. It really was a joy. I thought long and hard about the photos but Gill looks so happy it had to be this one ... CONGRATULATIONS and a very happy birthday to Chris who did great!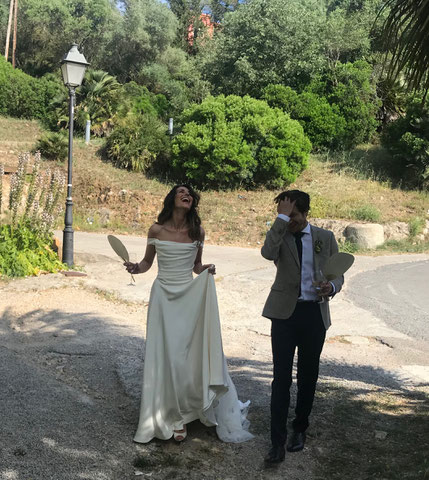 Glorious, even though I insisted on calling Xavier (pronounced Javier) Xavier (pronounced Xavier) ... so those who speak Catalan and Spanish you will know what I mean. This was bi-linguial but we kept them interested and the ceremony was greatly appreciated. I had met with the couple 6 months ago or so in Manresa and then a couple of days ago at the venue,  loads of chats and whatsapps ... really felt I know them well when the day finally happened.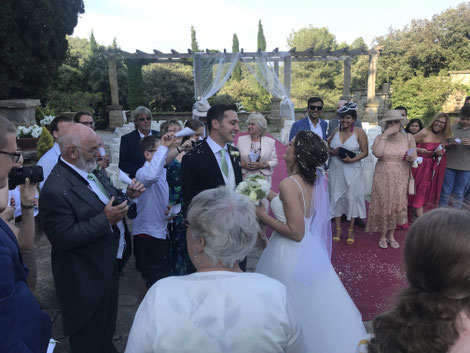 Another Saturday and another wedding ... wouldn't that be an awful thing to have to write ... and that wasn't the case. James and Eva married at the Lighthouse at Tossa de Mar. This is such a perfect setting and a great (not too high budget) venue. It has its drawbacks, basically getting to the lighthouse, the guests usually come on the little tourist train that goes up and down regularly but I always seem to end up walking. That means planning enough time to cool off which is no easy at this time of year. But was made it. Eva was glorious getting off the little train in white heart shaped sun glasses and even the publicans where they first met were there to celebrate with them. A great day!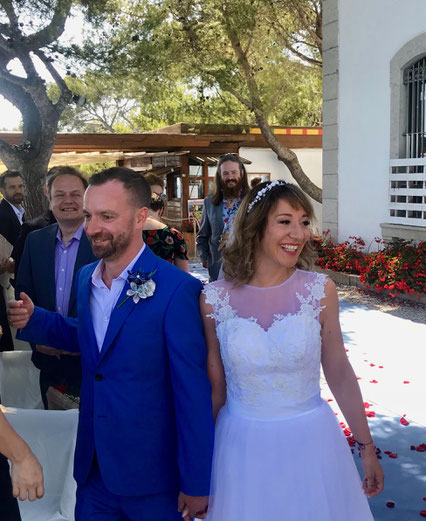 I get the feeling that right from the very start we hit it off, our meet in the Leia in Barcelona and all the chats and mails and then whatsapps ... all this communication just gets easier and easier and means that you can feel what the couple want. I think I judged this one well, they are a funny, out going couple, the vows were incredible and there were tears and laughs galore throughout.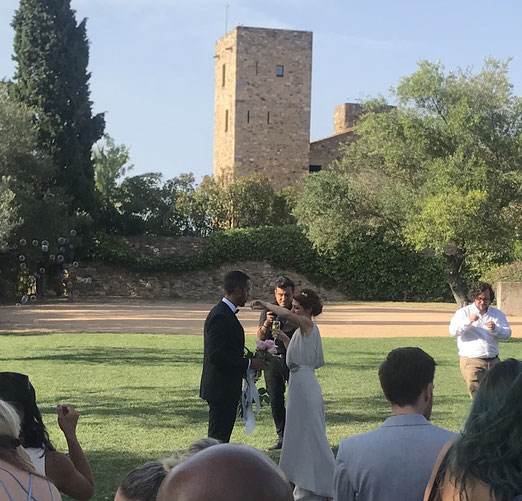 What a place, Marianna and Nick had very much their own ceremony in L'Avellana, Mas d'en Cabre and it truly is a great place. It is well off the beaten track, down past Tarragona, but great for the after party and so much more. This is an example of a couple who very much wrote their own ceremony. As always I sent them their blueprint and my ideas but they had their idea of what they wanted and I believe that they got it! It was a pleasure though the trip was a long one and tomorrow off to Madrid!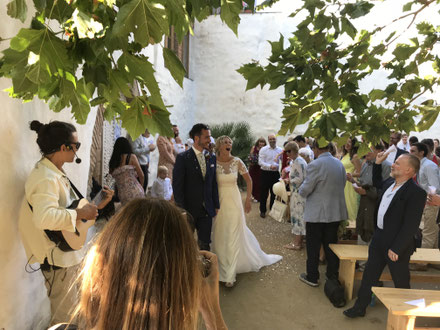 So ... to start with it is unusual to go all the way to Madrid for a wedding, even more so when you get out of the train at Atocha station and it is gay pride and the place is alive with music and fun. Then you are picked up by sister, brother in law and their 7 month old and driven 30 minutes outside town. You think you are going to a club or some such but no, this is the bride's parents place: Zanzibar! What a house and what a fabulous time we had. It was sooo hot but we managed (some better than others). As you can see in the picture the ceremony was on the steps leading to their pool and it was perfect. Mike and Bea were a joy and I had the bonus of re-meeting a fabulous couple I married a few years back: Juncal & Jordi (that is why I was there, Mike and Bea had been at their wedding here in Catalunya and I had other couples insisting that there would be more weddings coming from this one) who had one child still growing in Juncal and another left with the grandparents. A great day was definitely had by all!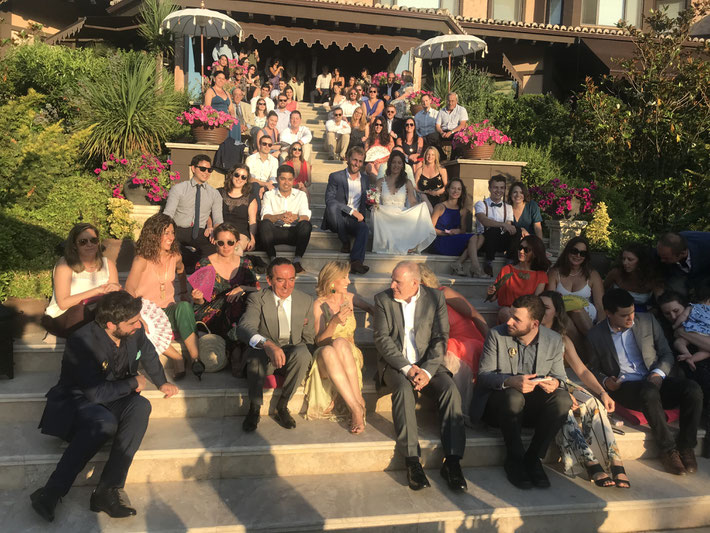 This is the very first time I have got to a wedding with 5 minutes spare! Thank you google maps! But we made it and it was great, very very hot, I think that I can take the heat less and less as the years go by. Edward was great, stoic and all smiles, while Marlies was stunning and, as Edward described her: "bubbly and fun". Lots of positive feedback from all there so ... another great wedding!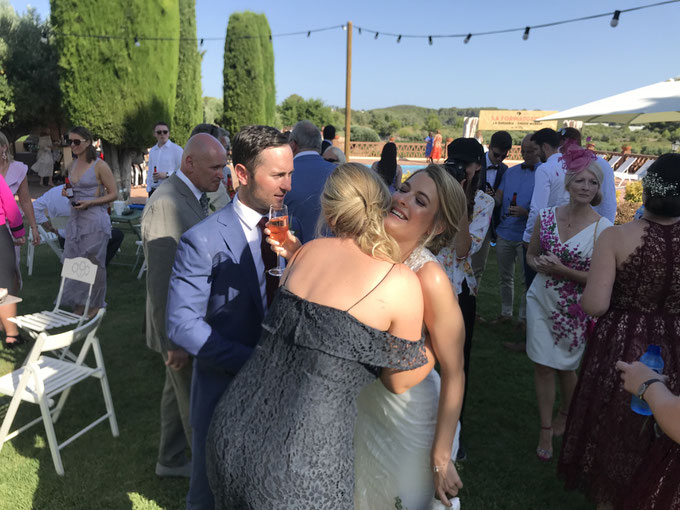 Michelle and David are not love's young dream, they are simply love's dream ... they make a great couple, Australia meets Llançà. I loved one of their readings called something like "a dinkum kind of love", very Os, the other was lovely and heartfelt too not to mention friends who sang through the signing or simply Michelle and David, all good, no ... better than good ... perfect!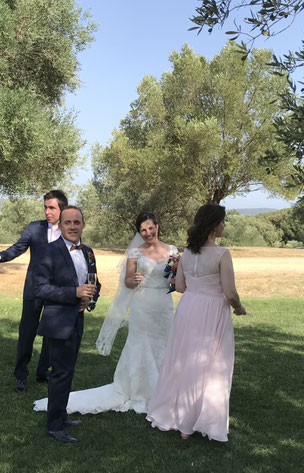 It didn't rain, it almost did, it did before but won't after ... it was great. This couple is full of humour as was their ceremony, altogether a party feel to it. Some great music, must get their names from Val who once again planned wonderfully. She is trying to get me on Instagram and I promise I am trying too and all this IT usually comes pretty naturally to me but Instagram is taking it's time to get in to my way of working. Ah well, we will see, in the meantime a great ceremony and a very happy couple. 
Wow ... today was sooo hot I thought that I would melt in to my suit but didn't, almost, but not quite! An extraordinary wedding, translated in to Mandarin Chinese throughout by Kevin who, by the sound of the audience, did a great job. A joyous affair altogether, well done Vicky and Alan.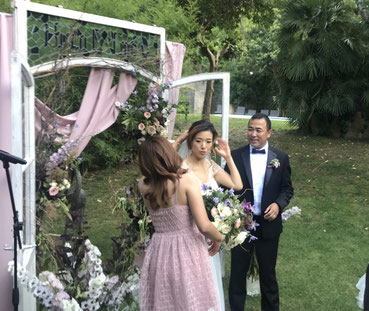 This was a wild one, loads of participation, Austria meets Alicante and all said their bit. It was a joyous occasion as you can imagine. The heavy Catalan summer very definitely made it presence felt but we made it once again. Miriam was stunning and Michael ... oh so elegant. What can I say ... a joy to be part of it all once again with some excellent musicians there too who played almost non stop ... great stuff.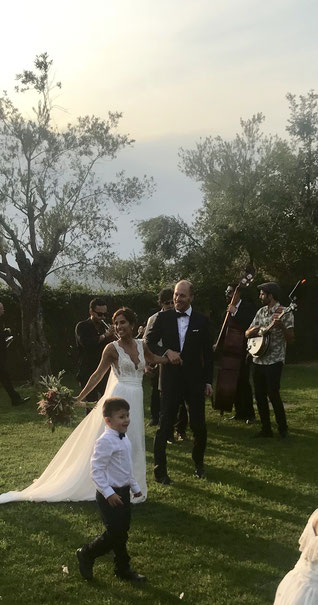 38º ... today was 38º ... hot hot hot ... fortunately a fair number of the guests, not to mention the bride, either came from Ghana or have lived there for some time and we made it. It was a great affair altogether, lovely speeches and a great feeling pervading all. Once again a truly international affair ... Germany marries Manchester/Ghana/Germany ... met in France and brought together in Spain ... ah the joys! Oh yes, and back to the Castell tomorrow ... non stop!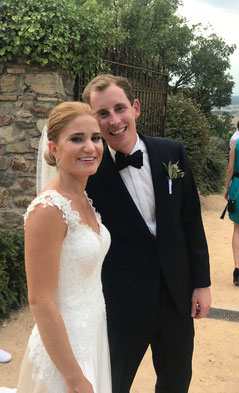 Back to the Castell for Lou and Nick and a great wedding was had by all. Nick was worried he would loose it but he kept it together excellently, even managed the vows. Louise was ... as was expected ... a total princess and looked stunning. We had readings by Elton (John) and Vee (Gran) and all was great, once again hot, but perfect!
As my mother would say ... that was extraordinary! This time yesterday I had no idea that I would be doing this wedding today but it turned out that a family member who had offered to do it dropped out at the last moment and they had to fill the void. Off I went this morning to try and get as much information from them as possible over a midday coffee in the city. Then I had lunch and wrote the ceremony and finally headed off to the Parc de la Ciutadella and we did it. 4 children in tow ex-Polish Olympian now Australian national hokey player and Adelaide girl tied the knot in front of the Umbracle as the city looked on, very humid as is Barcelona, but all great! 
Jamie and Gerard's wedding was just where it ought to be, overlooking Sitges. There was a great crowd simply mopping up their collective joy and it really was a celebration ... what more can you ask for? A photo maybe but the couple was whisked away by their photographer and never seen again ... pity but I am sure they were enjoying. 
This was a very fun one ... they laughed and joked the whole time except when Phil cried at the poem that Amye read to him written by Jess! It was lots of fun and moving and enjoyed by all. Both the couple and the guests were very much in to audience participation and this time there was lots ... a joy.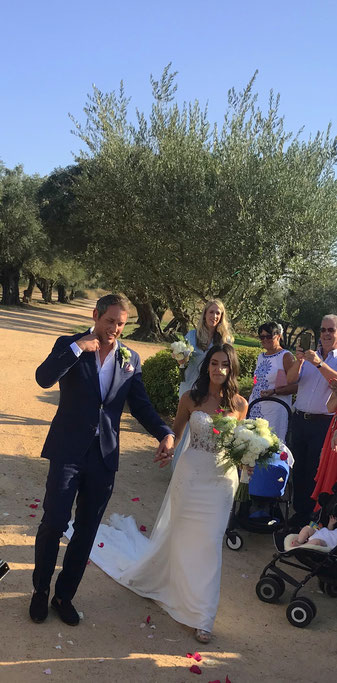 A beautiful day, warm with a breeze and a lovely couple. We have chatted, mailed and done all the necessary and it all went perfectly. There were tears and laughs ... especially about the brides need to scare her man at least 3 times a day hiding behind doors or sneaking in to the shower. Lovely day all together!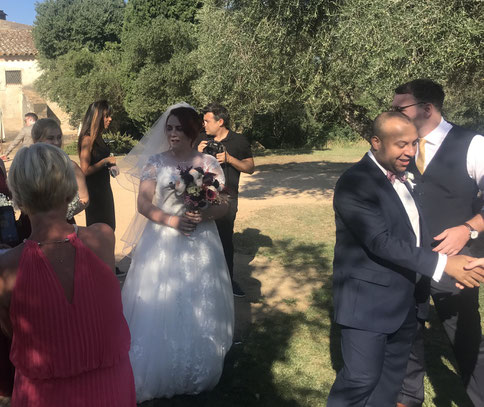 So ... good news ... the Castell d'Empordà, where I seem to do many many weddings, has a great plan B. Sooner or later it had to rain this year and today it decided to do so. One of those summer storms that hurls down more rain in a second than falls in a year. Gemma and Lee have overcome so much to celebrate their wedding that this was never going to stop them, and it didn't! The ceremony was duly held undercover and all went perfectly. I am sorry to say this but the 20/21º was the perfect temperature for the wedding and I am sure that they will have a wonderful evening too.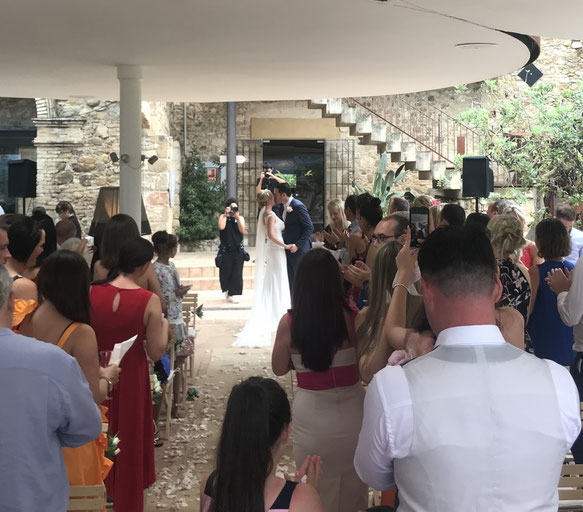 Down Under came all the way up and a little bit over to the lovely Vinyassa in Arbucies, and what a place, incredible vegetation and great atmosphere. Felise wrote most of the ceremony herself and it was beautiful. A lovely couple who I am sure will be very happy ... great family too!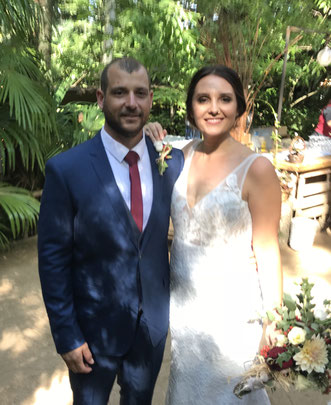 This was different ... all are different ... but this was really different. Lisa and Kevin married 10 years ago in Punta Cana with about 50 guests and they did it again today and those who were there were also at the other one ... now with lots of children in tow! They added things to the ceremony literally as we went along and it was such fun ... very laid back. I am sure that they enjoyed it as much as I did! As I left plans were afoot to get a Chinese take away for supper, I even got a message later in the evening to translate their menu!
No wedding is more important than the next, really. Some are bigger, some smaller, some richer, some poorer ... there is even some sickness and health but all are important. Having said that the ones you really have to travel to are different. So far this year I have been to Morocco and Madrid and now off to France. So flying early early from Barcelona to Bordeaux and then hiring a car and driving through the beautiful countryside surrounded by the order of French wine growers was a joy. I got to their venue: Chateau Soutard and what a place. This was a special wedding since the couple had been at a wedding of mine here in Catalunya last year and decided that they wanted me to go all that way to marry them too. There were lots of repeat guests and the whole thing was altogether perfect. They have hugely talented friends who sang and played music throughout, family was all there and the place was abuzz with great food and wine and general high spirits ... altogether a lovely place, great people and a perfect party!

What a joy ... Annie and Alfons had a truly international wedding, they met on a bridge in York and ever since Alfons wanted to learn more and more about this wonderful woman ... and he did! They married in the Castells d'Empordá, half in Catalan, half in English and with smatterings of Spanish thrown in ... and it didn't rain! Wonderful ...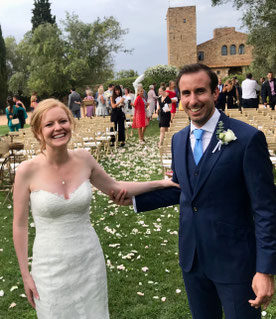 For those who follow this blog, or even couples I have married who simply check in now and again here is something new: the wine box ritual, as outline in the ritual part of this page, is usually done with a bottle of wine. I had one couple who decided on Vodka but this is the first time it has been done with honey! A lovely couple and very international family. Once again a joy and above all dry ... that is getting more and more difficult these days.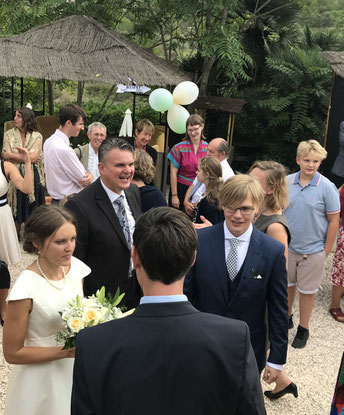 They met in the States, then she back to Catalunya, he to New Zealand, then living together in London and then Back to NZ and now marrying 10 years and 2 children later in Catalunya! What a great day. Another bi-lingual wedding and all seemed to go swingingly. Jordi, the Catalan Kiwi 2 year old son paraded throughout but was a joy as were Mariona and Guy! 
The Casa Felix was looking great after a good clean the day before, torrential rain! Today was cool and lovely, as were the couple and their families, all went as planned and the eye lashes will be where they ought to be tonight, Mike will understand, and I am sure you can read between the lines!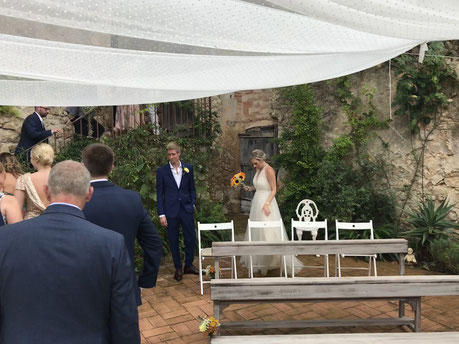 Here the photo tells it all ... Camille and Philip were accompanied by Mark (who claimed to need a liver rest!). A small, intimate, ceremony all about them. A heavy hot day here in Barcelona in a stunning venue: the Antiga Bibloteca Almirall... what a place. Wonderful music by Paul Bosauder on guitar. All great ...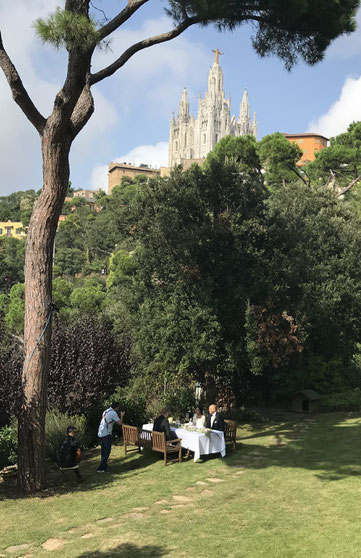 This is a couple that, for fun, run 50ks in the rain, at night, up and down the hills of Dublin. Fortunately for their wedding we shared what we thought was fun ... and it was. In the Camp Site of L'Estartit: Castell de Mongri, it was fabulous (even met up with old friends from the radio!). We had met earlier in the year so it was great to reacquaint and feel comfy and enjoy! Lily was fabulous too!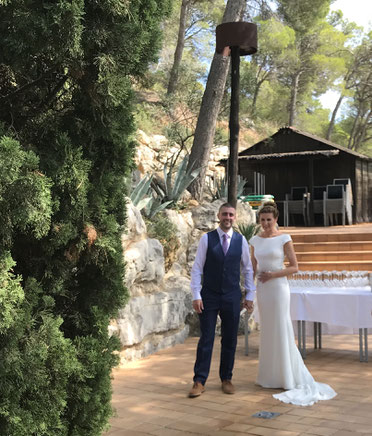 For those that know their geography you will see that there is a fair distance between this wedding and the one earlier in the day ... lets just say that we burnt some rubber today, but it was well worth it. Alan proved Katie right when she said that he may seem like a tough rugby sort of guy but he has a heart of gold and is just a big softy! Meanwhile Katie proved Alan right when he said she was always there for him ... she very much was, and beautifully! BTW ... the venue is fabulous.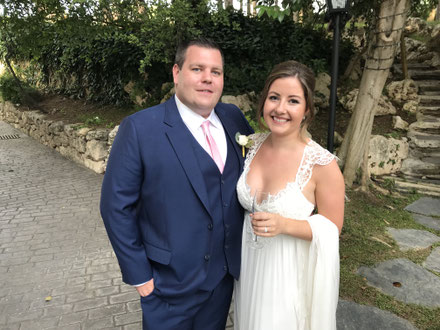 What a great afternoon ... USA meets Catalunya ... they have been in Vancouver, New York, Fort Lauderdale and finally made it to the Castell d'Empordà. The word for today was a celebration, and it was. Jessica and Luis thoroughly enjoyed their ceremony, they told me, and I think those there did too from the reaction afterwards. We skipped between Spanish and English, I would like to say seamlessly but there were seams, there always are ... but all great.