2019 is now up and running with, once again, lots of weddings in the pipeline. Skypes now seem to happen daily and information is coming through from the couples to make their wedding not only unique but also very much all about them ... all  set for another busy year so watch this space as it happens ...
It rained in the morning, it rained in the afternoon ... and then they got married and the sun came out! Meaghan shivered a bit, and Evan might have had watery-eye-syndrome but they made it. Fabulous first wedding of the year in the Parc del Laberint d'Horta ... all happy! Accompanied once again by Veronica the wonderful photographer.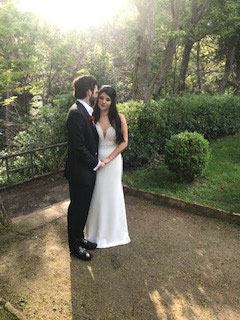 Yeh, wedding number 2 of the year, what a great day! Beautiful day, and Kate and James' wasn't bad either. Lots of fun, lots of laughs and lots of emotion. I only hope that this couple can continue to live in the same country/city ... if they can do that I reckon that this looks very very good! Congrats!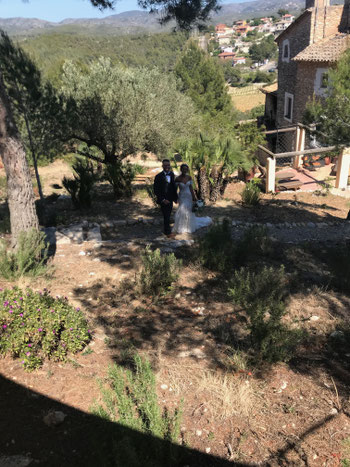 James, aka Jim, and Kate were married on a day that didn't look too promising weatherise but ended up perfectly. All was great, they seemed happy and the guests too ... what more can you ask for?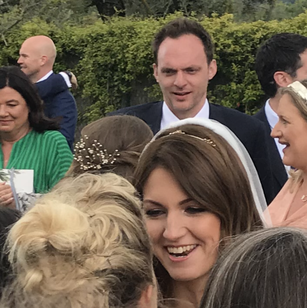 Sinead and Bradley tied the knot with Eidie looking on! It was glorious, the day was prefect and everyone seemed very happy, Bradley might have been a tad nervous but he kept it together as well he could ... I enjoyed the paparazzi photo! Val, my planner extraordinaire, turned the tables at the top of the Almiral de la Font, their venue, and it looked great facing the forest rather than the coast.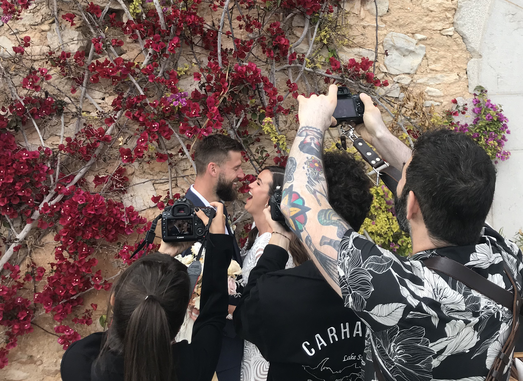 Never have I had such a joyous wedding with the rain falling behind us! We were meant to go down to the beach in Sant Feliu for the ceremony but today the weather was not going to let us so we did it on their apartment balcony with Melinda's two kids very much there (Gabi and Miller). This was a truly family affair and an honour to be part of, a lovely couple and, I think, a lovely ceremony!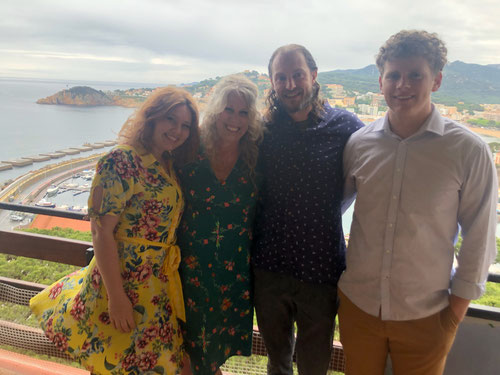 Wow .. it was meant to rain, it was going to rain, but, as I discovered when I met Alice purely by chance in the Hotel de Castell d'Empordá, she brings the sun! It was glorious, as were she and Phil, altogether a wonderful day. Phil's father played the keyboards beautifully to set the scene and then we all did our stuff. A lovely couple and a great day!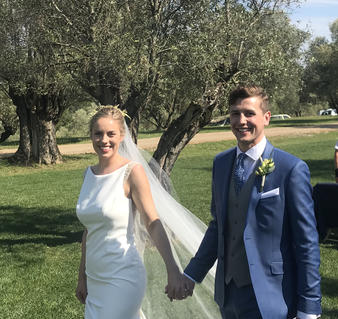 Novia multada novia afortunada ... the end of May can bring so many changes as did this wedding wonderfully organised by A Spanish Do. At the last minute all was held inside, by which time the sun was shining outside ... what can you do? Nonetheless both Jessica and Damian seemed hugely happy with everything in beautiful Mas Cabanyes. A success ... even though the elements were against us!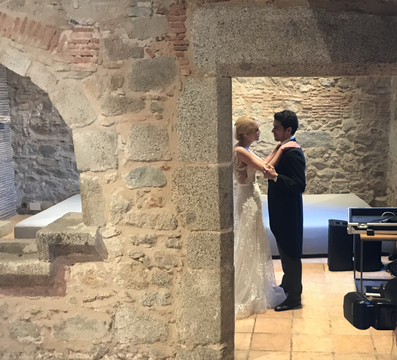 As it always seems to do here in Catalunya, one day it is spring and the next summer ... today was the most glorious day and Carly and Jonathan really deserved it. Yesterday they had their suitcases stolen from their hire car while in Barcelona but everyone stepped up to the job, new suits, Pronovias made Carly a new dress in 12 hours and the ceremony was very much enjoyed, not least by Jonathan and Carly.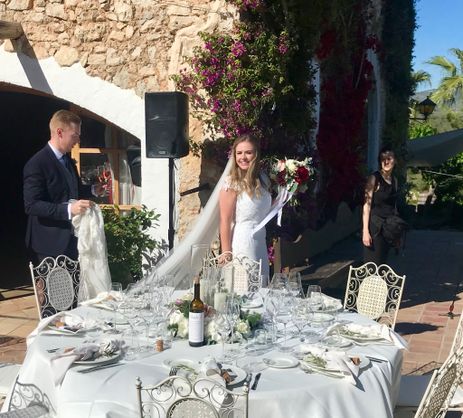 What a glorious day, maybe even too hot, I was certainly jealous of the kilt wearers ... much airier. Zoe and Jamie had a glorious time, Zoe almost not getting her vows out but made it in the end. For the first time we included something called the Quaich ... great stuff for whisky lovers! Val planned and Gau did the catering in a whole new spot just opened up by Jane at Casa Felix. All excellent!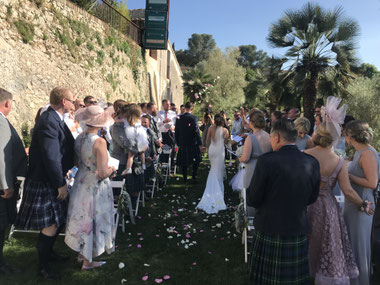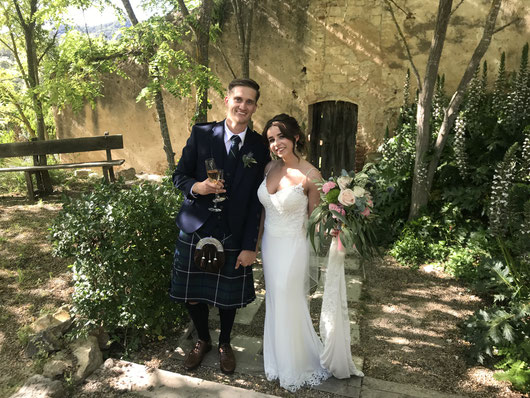 What a blast, great fun people who decided to have a great fun time. They held their wedding in El Principal ... a perfect venue right in the centre of Barcelona. Mike and Steph are larger than life, as was their wedding which, from feedback I got afterwards, was enormously enjoyed! Beautifully organised by Mireia.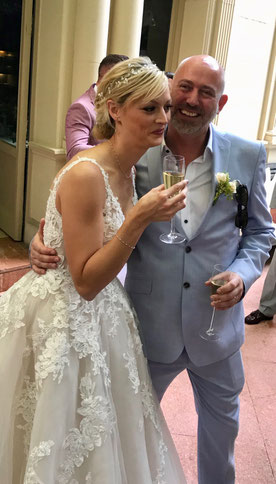 It is obvious that you are never quite as comfortable in your second language as your first but today was great. Aïda and Ivan married in Hotel Can Darder with 50 or so friends and family. La Titon sang and Sergi and Marc read and all was relaxed and lots of fun! Their two children brought the rings perfectly and the day couldn't have been better. A totally Catalan affair.
Jess and Jack wanted fun and they had it. Casa Felix was perfect, Africa (who I will be marrying on 28/6/19) was at the helm while Val is having a baby and did a wonderful job, Dani played his guitar ... sometimes weddings are more like a reunion for me. All was perfect and there were lots of laughs and smiles ... as there should be, might even have seen a tear!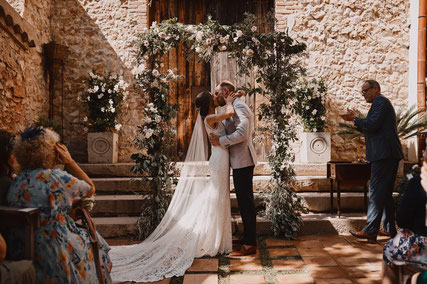 A great Irish wedding all prepared very much at the last minute after they changed celebrant 10 days ago but we made it! Shane and Cara told me they loved it all ...  as did many of their guests. A beautiful day but the weather is on the turn ... next week promises to be a heat wave ... watch this space.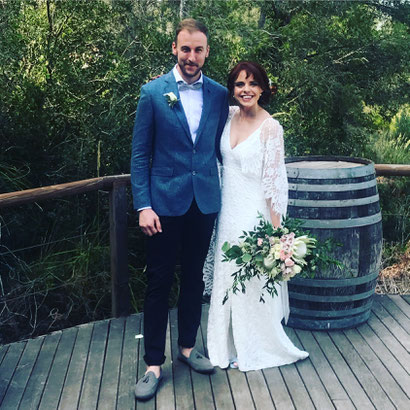 With a lovely mixed bag of people from the States and Mexico Nancy and Ken married at Villa Mas Sant Jordi. A semi bi-lingual ceremony which went down really well. Nancy threatened not to do her vows as a result of nerves, she didn't want to be the centre of attention. What can you say to a bride who doesn't want to be the centre of attention? But she did them and they were great, as were Ken's, both written by themselves. All very very good.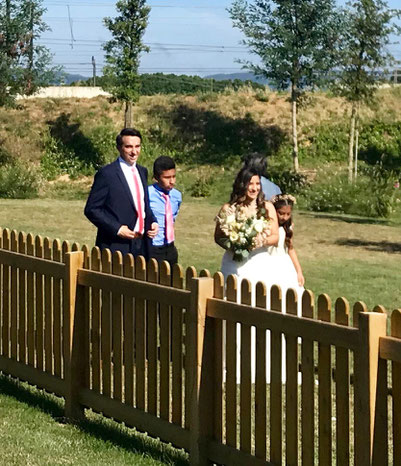 Sara claimed she took so long to find the right man to marry that by the time she found him he was a Grandfather ... that is Peter. Smashing wedding, great crowd, incredible day ... summer, now arrived, is in full swing and everything was pretty much perfect though Sara might have mentioned that she certainly couldn't sit in her stunning dress and that eating and drinking might be difficult.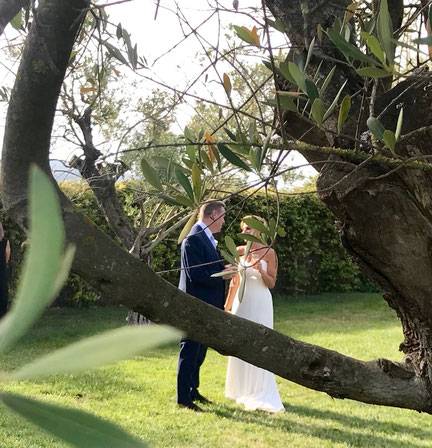 Kristina and Frank got married at 42º ... the hottest day so far this year, possibly the hottest we will have this summer (it turned out hotter the following day though fortunately the nest wedding was at 6pm not 4.30pm!). It was fabulous but the iPad gave out half way through with the horrible black screen and the temperature gauge saying that it wouldn't work any more, fortunately I had it on the phone too so made it to the end OK. Their 3 girls were brilliant, as were they, a very Norwegian affair with fab music throughout thanks to Tina and Joe.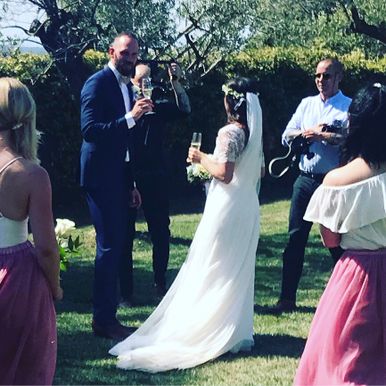 Africa did it ... and so did Rafa, finally, after 9 years together. I often work with Africa, she works with Val and worked with Mireia, both wedding planners and both working together on Africa's wedding yesterday. To tell you the truth I was nervous, and I am almost never nervous, but Africa is a pro. It was a great ceremony in the beautiful Ca L'Iborra on what will almost certainly be the hottest day of the year carried out in Spanish and Catalan ... a great day and, as you will see below, the couple were stunning! I even got to stay for a canapé or two (thank you Gau) and a glass of bubbly.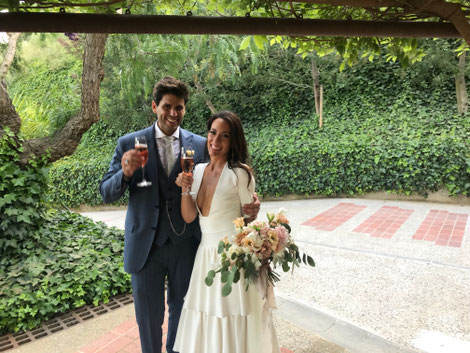 What a day, and what a couple. Laughs from beginning to end but I always knew this was going to be like that. We met a few months ago in their airbnb near Girona and spent a morning getting to know one another, always a plus. Their input was lots of fun and it was very clear what they wanted and how they wanted it ... I reckon that they got just that, especially after all the comments whilst having a beer with them after the ceremony. The ceremony was up fun the woods of the lovely Mas Terrats, somewhere I haven't been for 4 years or so but would highly recommend.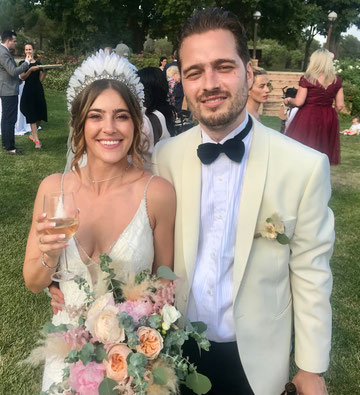 Yeh ... another wedding that kept me on my toes, some French, some translations, some Spanish and the rest ... English. Aurelie and Joan, France meets Portugal, are a fun coupled and they really made it happen ... the whole afternoon, though hot hot hot, was great. Lots of good feedback, Joan's father came up to me afterwards and said ... "didn't understand  a thing but that was fabulous" and then laughed ... long and loud. All good, much enjoyed!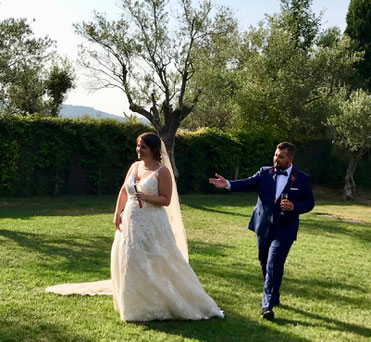 Great couple, lovely day ... maybe that simply sums it up, but it is never enough. Ashleigh and Liam married at the beautiful Far de Tossa de Mar, an idyllic spot once you make it up the hill and at 3.30pm and that is quite a feat, but we made it. There were lots of laughs and lots of tears throughout ... just the right balance I think ... a joy!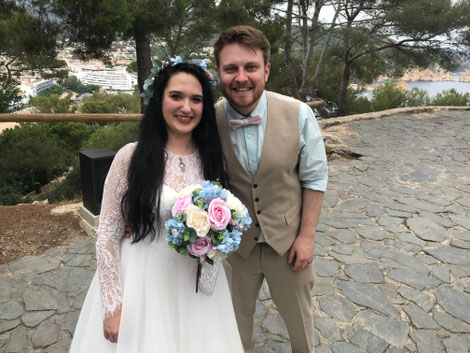 What a wedding and what a beautiful day. How many couples can claim to have 40 guests who are neighbours, I would love to live on their street. I was accompanied by my son, Biel, on piano, who played them in, out and about and then at their reception. Quite simply days don't get much better than this. Since I had to stay on to bring him home I was forced to enjoy their hospitality and chat with their guests and things just go better and better. To top it all off I even made contacts ... as I said earlier ... quite simply days don't get much better than this!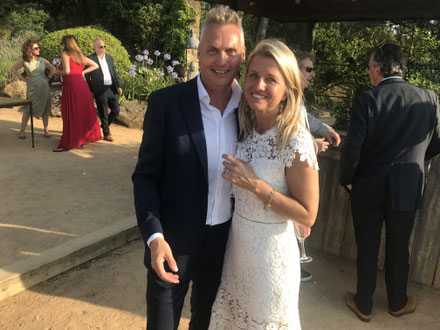 So ... another heat wave arrives in Catalunya and another wedding, but not just any old wedding, Tracey-Lee and Luke, Ireland meets Australia via South Africa. Tracey's daughter, Jazzy, was on hand to give her mother away and she did it with relish. By the looks and from the comments a very good time was had by all.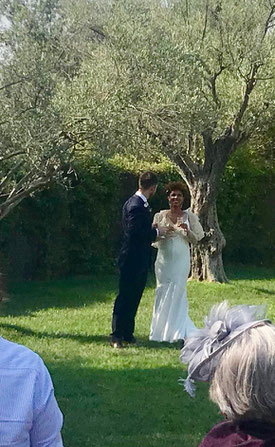 Meto and Kyle married in the beautiful Antigua Biblioteca Almirall at the top of Tibidabo and that really is a fabulous venue where I have been before. They were still sending me information the day before and vows minutes before the ceremony ... these guys were looking forward to their party which I am sure they enjoyed.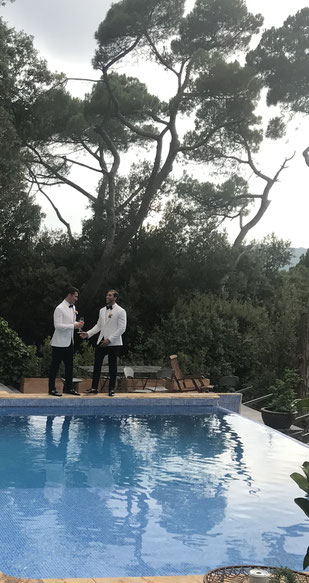 Oh no ... no picture! They however were lovely, lots of fun and happy people in the beautiful Parc Samà, unfortunately it is a couple of hours away from home but ... have car will travel. Cooling off slightly here but fear the heat will be back.