I can't believe I have been writing this blog for 5 years now! Well another one starts and you will see that it starts earlier than ever this year. So far things looking busy so follow what happens in the next 12 months here. 
So the year started and January was exactly what it should be ... cold. With snow falling throughout Catalonia Barcelona was saved and even the rain stopped for the ceremony. Rosemary and Ian were perfect, they wrote me great material to make their ceremony special and, as I said, the rain held off, it was cold but a great winter wedding.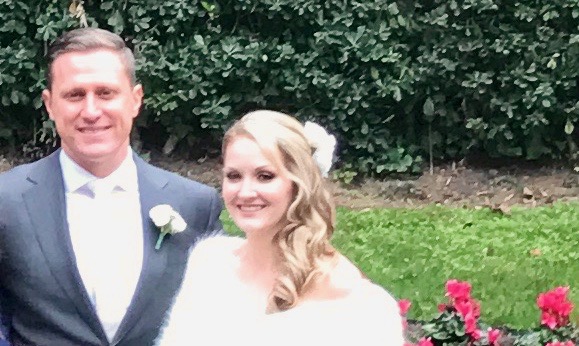 It is a brave couple who marry on 11th February! It didn't rain, at least not during the ceremony, ok it was a bit cool, but the couple were too. 20 or so friends from around the globe and their dog Fiji did the right thing with the rings. A great day for all I think, even had the eye of Abby's father, a wedding photographer, very much on us and feel all were pleased with the outcome.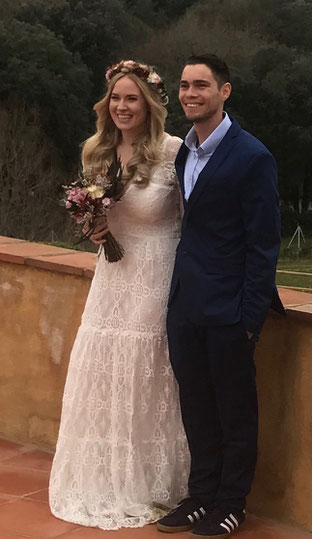 March 3rd was always going to be risky but when it is 10 years to the day after Stephanie and Hassan started going out it was a must. In the end we found a quiet part of their hotel for the ceremony since wind and cold meant that the beach wasn't an option. I had my youngest ever witness, Kaysan (3). Steph's whatsapp after the ceremony "Thank u so much for today Toby it was truly lovely was so emotional too". What more can you ask for?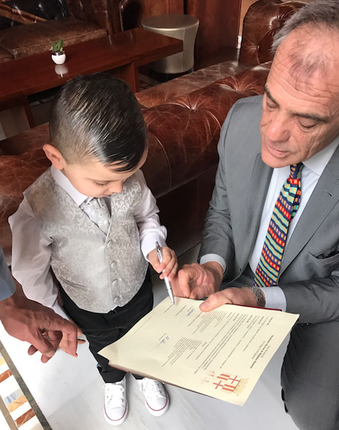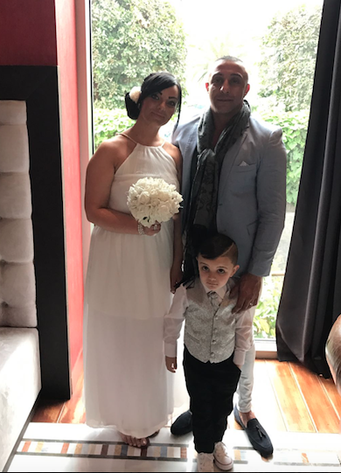 Cristy and Ariel married on the most beautiful day possible, one of those days when spring is so much in the air it is everywhere. It was warm and the sun shone and magical things happened. There were two girls recording a video clip of the song "Cambia, todo cambia" who I couldn't resist asking to accompany us in this very small intimate ceremony ... and they did! Once again the photos were by Veronica and it was all very special ... congratulations!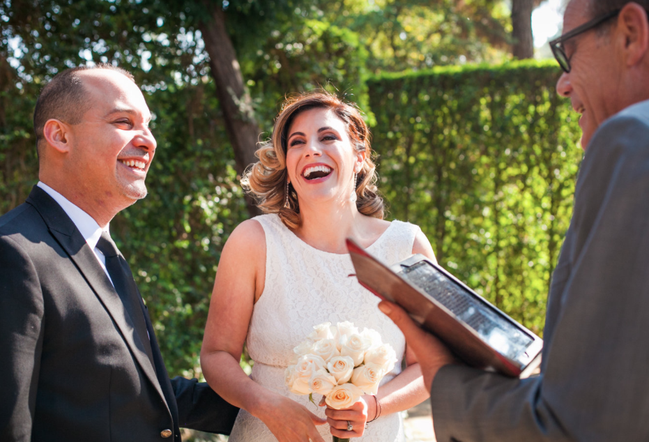 What a perfect day, especially for kilts, and there were lots of them about. Katie and Jonny seemed happy and relaxed and the few comments I had after the ceremony were all very positive, unfortunately I had to jump n to the car and head off to the other end of the country! That having been said however, it was a lovely ceremony and juyst a pity the Welsh Crooner couldn't make it.
They laughed and laughed, and there was some lip quivering at vows, there were Danes and Brits and people from all over and the whole thing was great. Harriet did say that maybe she shouldn't have shared so much with me, I do always say however, that I never make things up, simply rephrase and make my own whatever I am sent! It was lots of fun and happy people at the end.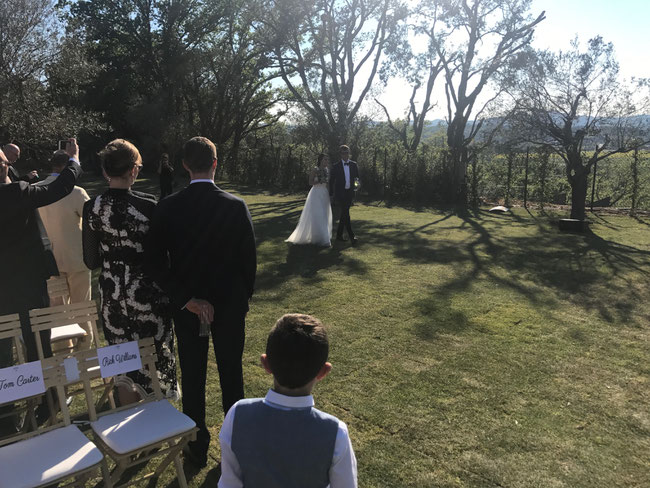 Wow, what a do! Paul sent me 10 chapters on Jenni and Jenni was never going to be out done so there was LOTS of material. Everyone seemed to have a great time and the feedback was very positive, I left them under the Sitges' sun out on the newly built deck in the Almiral de la Font, and all looked like it was ready to swing. 
Hannah a Brit and David a Catalan met 6 years ago and have never looked back. Their wedding was very much a bi-lingual affair with Hannah's Dad Sean even daring to let rip with a speech in Catalan, brave man. The whole thing was right up my street, very 50/50, and from the feedback I got enjoyed by all. It was a day to remember, beautifully sunny and quite something else. That might sound strange because, as you can see from this page, I do lots of weddings over the course of the year. At the time of writing I have 54 planned throughout the year and that is a lot. Each one, however, is very different, yes the shape might be the same, but whether it is adding things in other languages or the things that the couple decide to share with me or the input of other family members and friends makes each unique and a joy to be part of! I was so much part of this one I totally forgot the picture at the end! Here are a couple of the venue and yours truly just before starting ....
Another small wedding, Kate insisted that this was a ceremony that would "take the pressure off" for their big one back home next year. It was a glorious day but also May 1st and a national holiday so there were hundreds of people in the park but we managed to find the perfect spot and had an intimate little ceremony with no "pressure". It was great, Jordi, their photographer wanted lots of photos of "the" kiss and after about 5 Kate said very clearly that this was "gross" but there was definitely a smile on both of their faces!!! May has started and the season is very much on.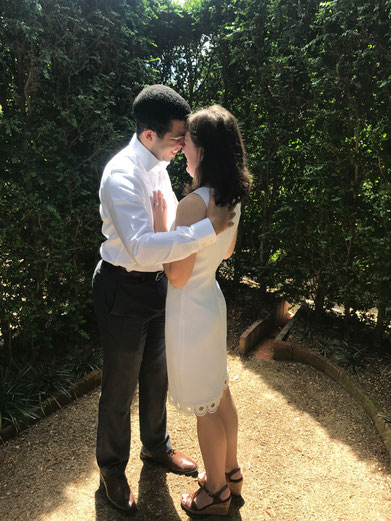 Now I really should write this is either Spanish or Catalan since they were the languages of the ceremony but I won't since all the rest of the blog is in English. This was a wedding organised by Toni Segui in the Castell de Sant Marçal were the couple knew the venue but very little else, the rest was a surprise, a dream come true for many getting married I am sure, though maybe not for all. I have done quite a few weddings in the incredible venue but  this is the first time that a stage has been built over the pond and it was beautiful (see picture below). I think the biggest surprise came at the end when all the guests set butterflies free from boxes they had been given by the organisers, if you look very closely at the photos you can see them. Really quite something else. All that and the actual ceremony went down well too! What more can you ask for? 
I hate to say that some weddings are more special than others, they aren't, but often when they are very small affairs you feel more involved in the whole thing and this was the case here. As Larry, Marty's father asked me to stay and consider myself part of the family it was difficult to drag myself away but I was needed elsewhere. On top of that the venue was Mas Xipres one of the very first venues I went to often to do weddings. Here they can cater for small groups with a beautiful little church for indoor or at the doors of the place for outdoors. They know how to create a perfect ambience and it really was utterly perfect. Karly had no idea what Marty would do during the ceremony and I am pleased to report he cried! All in all another lovely day ... and what a great card they found for me!
What a wedding, what a day, all perfect. Luke wrote me a book and Kate was simple and to the point. It seems like this is a bit of the sort of thing that is happening this year ... the men are finally coming in to their own! Can I say that the wedding was so good I couldn't capture it in a photo, or I was so involved I forgot ... you take your pick but it really was great.
So this one was summed up by Jemma, the maid of honour, "I didn't really think that they were organised enough to create something so perfect", see Oscar Wilde's Ballad of Reading Gaol to understand that one better! But it was perfect, glorious day and Mas Torroella is just about as good as it gets and highly recommended. Small family do, all the men dressed the same, even Dan, fortunately there was only one perfect bride: Tamsin.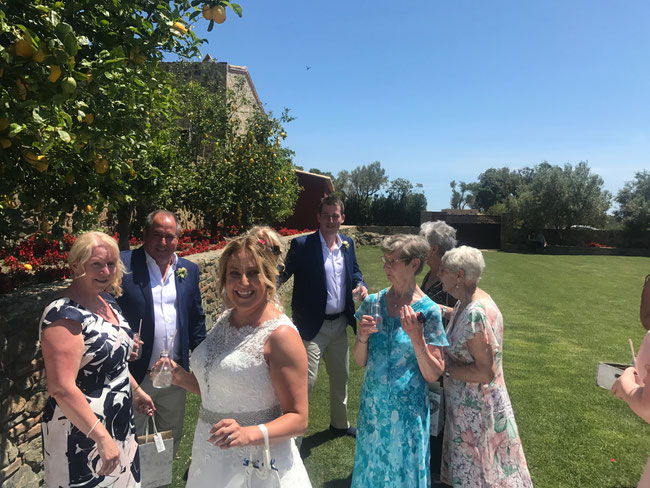 Katia and Captain Mark met on boats, she cooking he captaining and, though never plain sailing, they finally made it to the symbolic alter this weekend. The weather was perfect and so were there small but close knit group of friends and family. The guitarist was a star and when Mark's son Floyd came up with the rings he played "Wish you were here" on my suggestion. Lots of laughs and lots of fun!